PEACH CRISP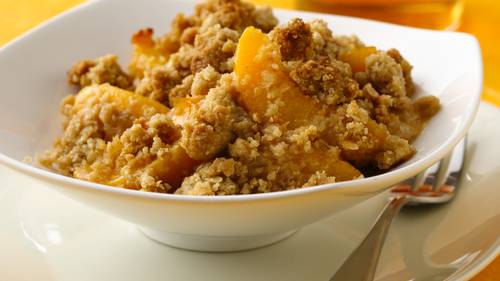 Honorable Mention – Contest Recipe 2009! Making fruit crisp has just become the easiest! With three ingredients and 10 minutes, you can have a cozy fruit crisp ready for the oven.
(We LOVE this! ♡)
 Instructions 

1 pouch (1 lb 1.5 oz) Betty Crocker™ oatmeal cookie mix

1/2 cup cold butter

5 cups frozen sliced peaches, thawed and drained, or 1 can (29 oz) sliced peaches, drained
Steps

1

Heat oven to 375°F. In large bowl, place cookie mix. Cut in butter, using pastry blender or fork, until mixture looks like coarse crumbs.

2

In ungreased 8-inch square baking dish or 2-quart round casserole, place peaches. Sprinkle cookie mixture over peaches.

3

Bake 25 to 30 minutes or until topping is golden brown. Serve warm or cool.
.
.
.
♡
HOURS: thursday- Sunday 7:30am-4pm
PLEASE Follow signs and DRIVE TO THE ORCHARDS
COST: $2.20lb
We provide bags & boxes
Peaches from Schnepf Farms have been named and featured in Wine Spectator Magazine as the best in the country and for over 50 years, the Schnepfs have continued to extend their season by planting more orchards with different varieties. Peaches like Earligrande, Springcrest, Florida Prince , Florida King are all popular varieties that grow extremely well in the Desert climate.
Our Peach Season begins before any other location in the Country.  Its an incredible season that lasts 6 to 7 weeks!
Please NOTE …Availability is affected by Mother Nature
Upcoming Events
MAY12




Starts:05/12/2017 @ 7:30 am

Ends:05/21/2017 @ 4:00 pm

Place:24610 South Rittenhouse Road
Queen Creek, AZ 85142
.
.
.
.
.